On June 28, 2007, near Mr. Davenport:
CROP FORMATION REPORTED FROM WILBUR, WASHINGTON STATE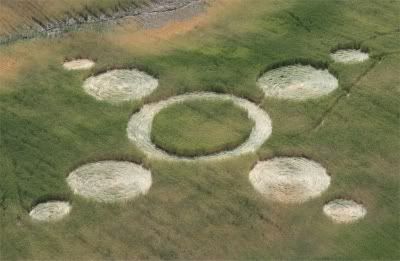 The posted image above shows such crop circle. When I saw it I thought it was oddly close to the day of my sighting, next to a person I just not too long ago had a brief conversation with. I grant you that it was not the same day or a month later; it was approximately 70 days; 2.25 months. This formation was cool but I was only fascinated by it appearing 2 months after my event in April 2007. It did not seem that important at the time up until a couple of weeks before my first post on other forums on September 6th, 2010
http://www.disclose.tv/forum/earth-day- ... 30993.html
.
When I saw the objects and appearing the way they did, it seemed like they tried to play this acknowledgment game. It was like them saying "do you see me", "when we want to be seen we will to whoever". You probably can compare it to seeing the way a person moves and how much body language can say about a person and their mood. In my experience, my thoughts for that one week were of only certain thoughts and ideas and it kept running through my head (not obsessively like a mad man in the corner of the room, I was living a regular life, i.e., work, school, children…). My thoughts on expanding on "their message"? from my experience was of them wanting to be seen or videotaped when they want because they know when they are being seen or videotaped. I know my sighting alone should already be unbelievable but there are more outlandish stories out there than the one I am claiming. I was not abducted and my time seemed to be accounted for.
So with my interpretation of everything that happened, I start to think about all the accounts that relate to my own story. In regards to the telepathy that I believed to have at my two sightings, I only came across two people with similar accounts; Dan Aykroyd and the cameraman of the 1996 Wiltshire Oliver's Castle incident. Dan Aykroyd in a popular documentary, I forget the name, and the cameraman in a follow-up interview; I think he was with his girlfriend during the interview and standing near the crop circle he videotaped. Both claimed to be practically dragged to observe a ufo phenomenon. When hearing the cameraman explain how he got to videotape the incident, he looked and sounded convincing despite all of the controversy of the video being real or not.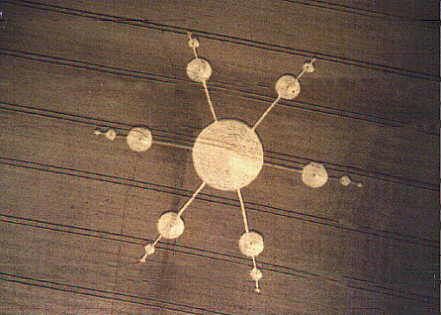 The 1996 wiltshire crop circle looks similar to the 2007 wilbur crop circle.
After the 2007 crop circle, Mufon started to have reports around Sept. 2007 of massive ufo sightings in Stephenville, Texas. To my knowledge, Mufon had radio towers in the area around one of the events and they broke down that data showing a ufo flying a distance towards Crawford, Texas. So from what I gather, this event was very promising to go down into history. In knowing a few massive ufo sightings, the first one that interested me in the 21st century was the O'Hare Airport Sighting on voting day for the next president of the United States of America , which obviously happened before my backyard sighting. This event apparently had many eyewitnesses and struck me as very amazing. I just never thought I was going to be personally involved in what was to come in Stephenville, Texas (if there even is a connection). One reason I feel there is a connection is because in the beginning of 2008 I started to search for my biological father and found him Nacogdoches, Texas; the oldest city in Texas. This city was not the epicenter of the phenomenon towards the end of 2007 but out of all of the places for my creator to live, it had to be near all of these ufo sightings .
I went to go spend time with him and when he came to my house in Florida, I told him, in my backyard, that I saw the two seperate unidentified aerial phenomenon's right above his very head. He asked if I was on shrooms. That day was as if I was on something that was better than shrooms, even though I don't know how it feels to be on them. Even though I did not have support from my father I still thought it to be a big opening to a world that we normally don't live.
As I sift through my Journal I started to read again yesterday from the date of this posting, after 3 years of not reading it (using my memory to serve me right), I soon feel confident that I experienced a third sighting.
3rd Sighting:
On April 25, 2007, missing April 24th, 2007 because of my busy life, I wrote:
I went to a friend's house, 6 miles away, to tell about my sightings. It was hard for the person to believe me. I went ahead and forced my friend to outside to see if the impossible could happen again. We sat and looked up as I pointed out all objects in the sky; stars and planes. I tried to do a warm up with the person to better prepare them. Twenty (20) minutes went by and I noticed a white flash in the sky, thousands of feet up, way above the airplanes that were traveling underneath it. The flash was stationary in the sky, like the second sighting I had but at 40 degrees from my zenith, directly over my home. The light was more bright/intense than the planes lights it was over; even the ones that seemed to be coming towards my direction. My friend was noticing it at times but again, with somewhat the same problem as my brother, she needed different glasses since my friend was wearing reading glasses, in combination with atmospheric distortion. The white light was going in and out. At eleven (11) seconds it flashed, five (5) seconds flash, then in eight (8) seconds it flashed again, and was continuing to flash white erratically for 5 minutes. I spent some time trying to point out the light to my friend, but with no luck. My friend went inside to retrieve the "better" glasses but I believe the inside light effected my friend seeing the night sky because my friend still was having a hard time seeing it. I got extremely upset because of the bad luck I was having getting the person to see it. At that point the object then flashed one red flash and a ½ second later it flashed (3) white flashes and then stopped.
At that point I was very skeptical of what I saw (as my Journal tells me), A. because we waited 15 minutes for it to come down, but never did and B. It was to impossible for me to have this type of interaction with something that does not exist; again for the third time. This night was nowhere near the occurrences of previous days but it still felt, how do I say this "alien". What I do know from what my journal states is that it could not be explained and did not fit the description of anything I have experienced when watching planes, helicopters, etc… I have lived in this city off and on since I was (9) nine and 14 years later I have this stuff happen to me. I also spent an entire year outside at night in 2005 and saw meteors hit our atmosphere and I always expressed enjoyment to myself over them, but this UFO business in my backyard was like a million meteors.
Doubt, something we all can relate to. After having this connection with my first sighting for that week, the days went on where doubt was weighing in on me more than I expected. It was like a depression of doubt not going away. It was because I saw something that shouldn't even exist, less alone communicate with me. So the feeling of the event became stagnant but the crop circle and the Stephenville, Texas incident reminded me of what happened to me. Now when I heard about the Chinese Ufo that shutdown the airport, and then seeing those weird spirals all over the world, I think there were 3 of those type of sightings, I was once again reminded of my experience.
So the Chinese Airport incident stroke me as interesting but how do they really relate to me? I don't know about the spiraling ufo's (even though I have looked into them; very cool) but the China ufo incident obviously involved an airport. After jotting down my thoughts on here, I soon realized what I saw my first sighting also involved an airport as shown below.
http://i1181.photobucket.com/albums/x42 ... 2842333301