About this abduction here:
http://www.ufocasebook.com/ilkleymoor.html
It was interesting case because witnes make picture of alien which is rare. So i think lot about this photo, very popular is black-white resize but its deformed so i made own contrast, enlarge on original. In result i found its face which resemble elf with blond hairs (my photo)
http://img341.imageshack.us/img341/6674/54218892.jpg
But i was not sure, maybe its just imagination? So i drawn lines where are visible shape, edges, and again i found the same, it just cant be something different (my reconstruction drawning btw to make it i used stretched and modified picture of comic book elf from
http://www.elfquest.com/fun/CharModels1.html
)
http://img574.imageshack.us/img574/4697/ufoelf1.jpg
First i think, hey maybe aliens look like elves and that explain why such strange beings are known from medieval? But then i look again on black&white photo: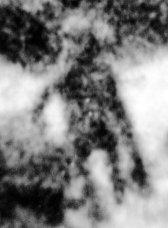 Something strange was in these legs, and what i realized is crouch female, see light and shadow of bend legs. Ok but this guy tell in hypnose that aliens was short. Well i think he return to home and was so excited about that encounter that later have weird dreams about, and under hypnose he tell story about dream, not reality, about something what he believed and not what happend.
So i think is crouch woman in dust, which probably want piss behind rock and when see folk in camera wave arm for him to get away, then become afraid and escape. Its probably that simple explanation. And why she look like alien? Its optic illusion, artifacts and distortions.
BTW just have that thought if aliens in fact have long arms like monkey then are behind us in evolution which is impossible for them to build ufos. Well it could be also crouch alien trying hide behind rock. I dont known maybe that theory about elves may be correct, strange creatures from medieval fairy tales could be aliens.