I'm not of a revolutionary mindset to begin with, call it a bias, but they too often come down to revolutionaries, a country's leaders (despicable tyrants surely), AND CIVILIANS, WOMEN, CHILDREN, THE ELDERLY, SICK OR HANDICAPPED PEOPLE, UNLUCKY FOREIGN LABORERS/TOURISTS, not to overlook any old enemies of the rebel factions suffering and dying in large numbers.
There's this notion of Arab Spring revolutionaries being friends to the West, kinda young democrats who may get a little too boisterous at times ('to be expected' in view of what they suffered at the hands of successive oppressive, cruel regimes).
I have doubts, big ones. Colonel Gadaffi's 'arrest' did not bode well for the Spring of Libya, with a youtube vid showing him getting murdered by impalement using a small sharpened stick. Not boisterous. Not Convention of Geneva, and no court day in The Hague, just brutal blood vengeance, accompanied by lots of God is Great chanting, apparently by devout, prayerful rebels.
Now Insurgent Leader Abu Sakkar, a founder of the rebel Farouq Brigade, seems content to strut his stuff on another Youtube, removing with a knife (as it seems from the commentary) a killed Syrian Army soldier's heart, followed by his liver. Commander Sakkar then demonstrates taking a bite of his enemy's heart, promising:
"I swear to God we will eat your hearts and your livers, you soldiers of Bashar the dog," the man says to offscreen cheers of his comrades shouting "Allahu akbar (God is great)"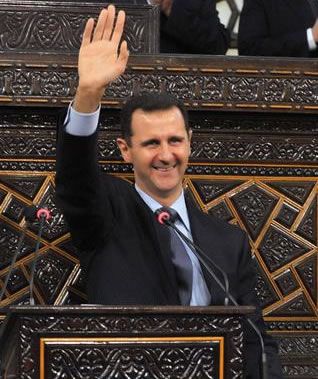 Syria's President Bashar Assad, the man Abu Sakkar really REALLY dislikes, and targeted for capture/death by the insurgent movement.
[Parental Caution: The Following Videolink Is Not Suited For Young Children, Containing Graphic Scenes]
Youtube Video showing Sakkar cutting and eating an enemy soldier's heart
I'm willing to believe the guy at his word, OK he really REALLY dislikes President Bashar Assad, and delivers a crystal clear message any remaining Assad sympathizers/supporters/loyal officials and military may ah take to heart. Nice. But fought like this, the Syrian 'Arab Spring' is not one I wish to support. Nor does this seem like a good beginning for a democratic, free society. I fear it will culminate in yet more tyranny and terror, just of a different kind.
orangekea