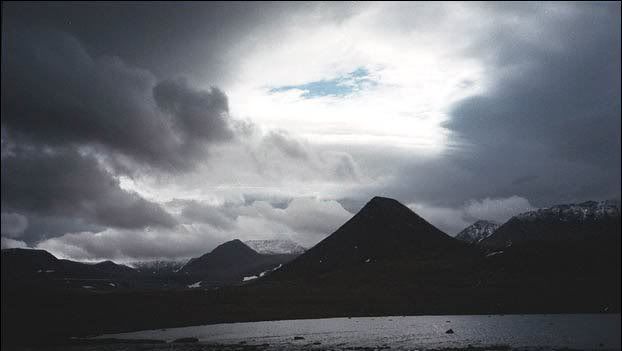 Kholat Syakhl mountain, northern Ural, Russia, also known in indigenous Mansi tongue as Otorten, meaning "Do Not Go There!".
LET'S GO THERE
Now here's a we-we-weird one.
Dyatlov
involves the death of nine experienced skiers, Februari 2 1959, high up on the Kholat Syakhl mountain, northern Ural, Russia. In an area with UFO sightings of orange glowing orbs, local legends of nine indigenous Mansi people being killed in that same camp site as they escaped a great flood, that mountain named Otorten (Mansi language, translates: 'Do Not Go There'), and the actual site (bodies of nine skiers found) called Place of the Dead, in the Mansi tongue.
Seems something non-human attacked them, came into their tent, perhaps shredding it from the inside out. They fled into the freezing cold partially undressed, away from their camp. Their bodies were irradiated/burnt to a deep tan and had been impacted by tremendous, bone-crushing force, which BYPASSED their skin and soft tissue, leaving them almost without external wounds. Such fatal injuries are confirmed for three of the nine, with hypothermia explaining the other six deaths. Link to
Search Party Photos
.
Search party photo nr. 1959_0031 71, taken of the shredded expedition tent.
Take your pick, these Visitor entities were harmful/nasty, in nature possibly hostile or demonic (depending on your wordview), and an example of how alien encounters may turn very, very bad. Any members with an opinion on apparent harm done by aliens?
Check out History Channel's Dyatlov Pass Incident documentary
RUNNING DOWN MOUNT KHOLAT SYAKHL IN UNDIES
First, most basic, something made them leave those tents like bats from hell, panicked enough to send the lot out in their undies into -30 Celcius snows. Not even was there a moment to put on socks or open a tent flap. Either sumtin very very unpleasant was busy shredding tent fabric (and potentially expedition members) from INSIDE the tent, or they themselves slashed their way out with a knife, fully aware what the outside environment held in store for them: freezing to death.
Igor Dyatlov, 23 year old teamleader of the skiers at Kholat Syakhl mountain was found dead, not merely facing toward the direction of his camp, but holding a stick speculatively to be used to recapture the camp.
Initially the flight of the eight or nine (based on tracks) was straightforward, away from the camp, toward the trees/forest at a mile distance. Then things get complicated. We know three died violent deaths, reminiscent of being in a high energy car-crash or even plane crash, causing internal crushing (skull/ribs/skeleton). Then there are signs of Dyatlov (expedition leader), and perhaps others still alive, but suffering from the extreme cold (nearly undressed, sockless) turning around to return to the camp, replete with stores of food, warm clothes and firemaking equipment. Dyatlov was found dead, not merely facing toward the direction of his camp, but holding a stick. He seems to have thought the reason for their departure maybe needed some CONVINCING to allow them back their belongings. Also, some, presumably those surviving the first killings had taken clothes from team members, one male was wearing partial woman's clothing (one female was mortally wounded, a rib puncturing the heart area), either prior to or after the failed attempt to retake their camp. Traces were found of the last members of the team attempting to make a fire, in a last ditch attempt to ward off the deadly cold.
Finally let's add the alleged radiation measurements (of hikers clothes, fabric), a report of bright orange spheres seen over the area, the weird crushing injuries (something gravitational, getting hit by an artificial 20 g?), deep brown/orange sun tans for the whole team, absence of footprints/tracks around the hikers' remains, and a Sovjet cover up, and what have we got here. SUM BODY climbed out of their cool orange sphere, and decided to rummage around some in the expedition tents with 9 sleeping hikers inside. No fun at all...
Source
orangekea
Event map for Dyatlov Incident, where nine Russian skiers perished, with reference to 1991 aircrash deaths (9), and Mansi legends of nine ancestors dying there while escaping a great flood.