Tsunami wave pattern hitting the port city of Sendai, Japan. Photo credit: Xenhua Press/Corbin.
Just a perfect day
Drink sangria in the park
And then later, when it gets dark
We go home
Listen to the song here
Just a perfect day
Feed animals in the zoo
Then later a movie, too
And then home

Oh, it's such a perfect day
I'm glad I spent it with you
Oh, such a perfect day
You just keep me hanging on
You just keep me hanging on
From the song Perfect Day, performed by Lou Reed and friends for
BBC Children in Need 1997
KNOWING
I remember buying this magical sunhat with an all-around transparent yellow plastic visor, putting it on turned everything into the most bright and beautiful yellow.
When I was just seven or eight years old, my folks took us to a small Dutch seaside resort called Castricum, where I divided my time between the perfectly sunny beach, and the shadowed interior of its many small shops. My little hand clutching some guilders expertly extorted from my dimwit parents, I remember one day buying a plastic bucket-shovel set colored bright yellow, some mags (I had discovered reading at age 6 and went crazy over it), and this magical sunhat with an all-around transparent yellow plastic visor. Put on hat, leaning a bit this way and that, and everything turned the most bright and beautiful yellow. I tell you, when I wore that hat, I was outside of time, or if I had had adult vocabulary I would have described it as
knowing I lived forever.
Being a child is good, and both our own early experiences (hopefully good and loving), and those which we provide for our kids feel as if of eternal value. But some years have passed, I'm 51 now and my aches and pains when I get up to make breakfast tell me day by day by day: THIS ROAD ENDS AHEAD, I will continue aging until (like every one of you) I die.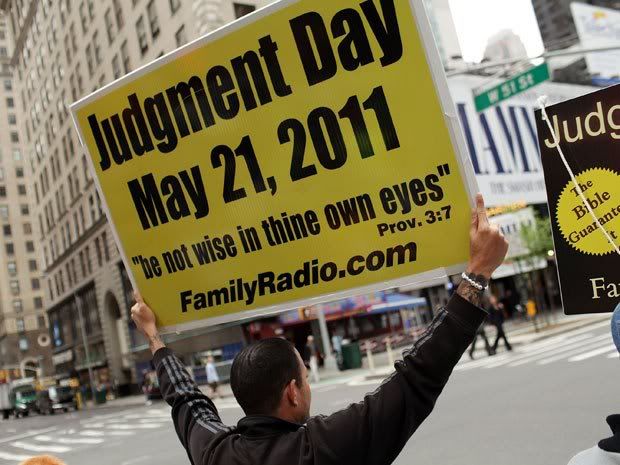 How wise can it be for people who are NOT homeless schizophrenics to start going around with The End Is Near signs, even if the Bible 'guarantees' it?
Signs of the END/JUDGEMENT OF THE WORLD can be fun, especially if carried by ridiculously godfearing folk, plastered on billboards, motorhomes, really everywhere, and
they come with an exact date
. You know, May 21st 2011, strictly speaking set for Jesus to take the believers home (=so called Rapture), after which earthquakes and assorted mayhem and destruction would devastate our corrupted planet. How wise was it for Christian people who are NOT homeless schizophrenics to go around with The End Is Near signs, complete with biblical 'guarantee' no less? I call it plain stupid, and psychologically harmful (..shame on you mr. Camping…) to these sincere believers. Brace yourself for impact: the one obvious error made by the likes of Harold Camping is predicting dates like September 6, 1994, followed by May 21, 2011 and (can you believe it!!) October 21st that same year. Apart from that The End really IS pretty much guaranteed: by the geological record showing numerous Extinction Level events over billions of years before present. Mother Earth appears safe and nice now, but that's only her taking a brief 11.000 year nap. Sobering truth is that the end is always 'near' indeed, deadly mega disasters looming as my fingers tap the keys, right now, or tomorrow, in 100/10.000 years, same same.
Just like me accepting my inevitable passing, mankind needs to mature, gaining the wisdom of age to realize 'earthling' is a deadly occupation. The one certainty is that we cannot know when and how the world will end. But end, yes it will, and however terrible this is, you and me have been selected by Evolution, or Fate, for all I know God, to stand the best chance of surviving cosmic scale annihilation.
ONE DAY
Video showing the March 11, 2011 tsunami scouring farms and communities along the Sendai coast, Miyagi Prefecture - Japan.
Revelation 8:8-9 AV
"…as it were a great mountain burning with fire was cast into the sea: and the third part of the sea became blood;
And the third part of the creatures which were in the sea, and had life, died; and the third part of the ships were destroyed."
Haha, don't worry, no need to get out the billboards, I'm not going 'Camping' on you. I cannot know, we cannot know, yet let's make an educated guess, and get mentally and physically prepared if megadisaster strikes in our time. My guess is that the most likely threat will come from Earth's volcanoes. My number one candidate (there's plenty!) is Cumbre Vieja, a well cratered volcanic ridge of Palma – Canary Islands. During a 1949 eruption, three vents - Duraznero, San Juan and Hoyo Negro opened and lava was expelled. Accompanying the eruption two earthquakes occurred, followed by a fracture opening some two and a half km long (=about 1/10th of the exposed length of the Cumbre Vieja). It is thought this resulted in parts of the western half of the Cumbre Vieja moving about 1m sideways and 2m downwards towards the Atlantic Ocean. The fracture today can still be observed, maintaining the 1949-measured dimensions.
Source
My 'favored' (in terms of probability) End of the World goes something like this. A fair-sized cosmic body (asteroid, comet or planetoid, Nibiru etc.) closely passes by Earth. Such near-misses by chunks of space rock are not uncommon, except this one could singe your eyebrows. As the cosmic body passes we are affected by its gravity, fast travelling over oceans, seas and landmasses, causing tidal forces to pull on both water and land. With bad luck, such landtide will trigger the Cumbre Vieja (and others) into a major eruption. According to a hypothesis (Volcanologists Day and Ward) the western half of Cumbre Vieja (500 km3 of mountain, with an estimated mass 1.5 x 1015 kg) will catastrophically fail and slide into the Atlantic, generating a Mega Tsunami. This one's a whopper folks, with waves modeled at 600m or 1,969ft, and initial peaks 2 kilometer (1 mi) high. Hell of an outward ripple too at 1,000 km/hour (equals 621 mph): you need to fly in a jet to stay ahead of it! Africa, Great Britain, the United States will be hit in hours, tens of millions would be killed, with Atlantic coastal areas most at risk.
Source
Adding insult to injury, my scenario would involve a flurry of volcanic activity, along the path of tidal forces exerted by a passing cosmic body. Thus in the immediate aftermath of a great tsunami, huge areas are covered with lava and volcanic ash, possibly causing a long-lasting change to weather (even up to Small Ice Age level) at which point we may reach the threshold of Extinction of earthly species, including Homo Sapiens.
If scheduled for tomorrow this is your last day, I imagine there will be just a perfect day, ANY LAST ONE, prior to the world as we know it ending.
Always enjoy 'today', wear a funny/

magical

hat if you have one.
No worries: like yourself, all of Earth life is mortal, merely our Universe's Rules. I encourage myself, and all readers to deal with living on a dangerous planet, prepare by being courageous and informed (a nice water, food and weapons stash helps too!), to optimize your & yours' chances of survival. I am sure, if worst comes to worst, our governments will fight for our species to stay alive, and restart society after calamity has passed.
orangekea
My number one candidate for an End of Times scenario (there's plenty more!) is Cumbre Vieja, a well cratered, yet ominously fractured, volcanic ridge of Palma – Canary Islands. Photo credit: Adela Gavare.