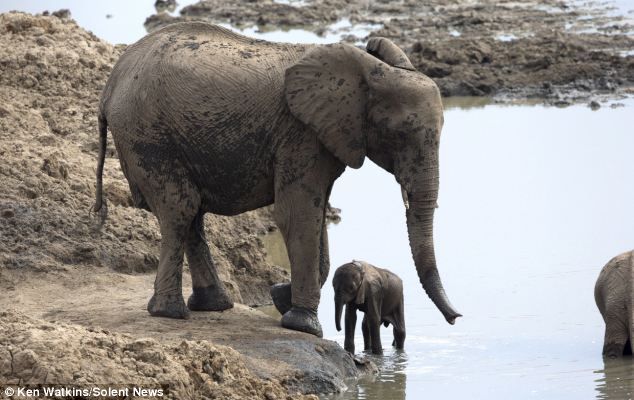 "Big thirst needs a big drink, my little one." Except now poachers in Zimbabwe have found a quick way to big tusk money by lacing elephant watering holes and salt licks with cyanide. Photo Credit: Ken Watkins / Solent News.
THE ELEPHANT AND THE APE


An elephant named Grand Tusk and an ape named Nimble were friends.

Grand Tusk observed, "Behold, how big and powerful I am!"

Nimble cried in reply, "Behold, how agile and entertaining I am!"

Each was eager to know which was really superior to the other, and which quality was the most esteemed by the wise.
So they went to Dark Sage, an owl that lived in an old tower, to have their claims discussed and settled.

Dark Sage said, "You must do as I bid, that I may form an opinion."

"Agreed!" cried both.

"Then," said Dark Sage, "cross yonder river, and bring me the mangoes on the great tree beyond."

Off went Grand Tusk and Nimble, but when they came to the stream, which was flowing full, Nimble held back; but Grand Tusk took him up on his back, and swam across in a very short time. Then they came to the mango-tree, but it was very lofty and thick. Grand Tusk could neither touch the fruit with his trunk, nor could he break the tree down to gather the fruit. Up sprang Nimble, and in a trice let drop a whole basketful of rich ripe mangoes. Grand Tusk gathered the fruit up into his capacious mouth, and the two friends crossed the stream as before.

"Now," said Dark Sage, "which of you is the better? Grand Tusk crossed the stream, and Nimble gathered the fruit. Each thing in its place is best."
The Baldwin Project: Indian Fables by Ramaswami Raju
THAT'S A MIGHTY FINE TOOTH YOU'VE GOT THERE, SIR!
There can be no doubt that Mankind has turned out quite the nimble one, and boy did we settle that superiority question. Confronted with the greater elephant family, Mastodont, Mammoth and modern elephants, we must have stood in awe at these enormous, strong and intelligent animals. Awe for the Grand Tusk quickly became an insatiable appetite, and now avarice.
Ivory carving, The Ten Taoist Gods. Photo: The Consul
Of course things have gone from risking the lives of every member in an intrepid hunting party, taking stonetipped spears and clubs against a 11ft / 6.6 ton Woolly Mammoth to today's poachers giving chase in army vehicles, using automatic weapons to mow down an equal sized modern African elephant, hell why not a whole herd, no sweat: that's progress! Can't accuse these fellers of being mere brutes either, lacking creative thought. Here's the latest 'invention'.
"Poachers in Zimbabwe have killed more than 300 elephants and countless other safari animals by cyanide poisoning, The Telegraph has learned."

"Parts of the national park, whose more accessible areas are visited by thousands of tourists each year, can be seen from the air to be littered with the deflated corpses of elephants, often with their young calves dead beside them, as well as those of other animals."

"Poachers killed the elephants over the past three months by lacing waterholes and salt licks with cyanide. Animals are drawn to them during the dry season in the already arid and remote south-eastern section of the 5,660-square mile park."

"Zimbabwe's authorities say the cyanide has been planted by villagers who sell the elephants' tusks for around £300 each to cross-border traders. They can be resold in South Africa for up to £10,000 a pair, according to court papers relating one recent incident, sometimes re-emerging as carved artefacts such as bangles in Cape Town's craft markets."
Source: The Telegraph
HOW DO WE GET BETTER?
This isn't about making these poison poaching villagers, Zimbabwe, the ivory loving Chinese, Japanese (let's not forget massive trade to Europe and North America!) shoulder the blame for mankind's dark side, evil acts of cruelty and murder prepretated against all life, including fellow humans.
Ambushing hundreds of elephants with their families, predictably in need of some refreshment in the Zimbabwan heat, by pouring cyanide on the water and mineral deposits they always enjoy, is bad. Actually let's call it evil and depraved to cause an entire family, from great and wise matriarch, to boisterous young bulls, to newborn tottering baby to die agonizing deaths, in order to saw and sell off their tusks. No doubt a Chinese(?) smuggler facilitating transport out of the country is just as bad.
We engage in much cruelty and killing, and my question is: how do we improve?
But the
ivory trade
hasn't been the work of criminal Zimbabwans and Chinese. Man has hunted elephants since like forever, several times to (near) extinction. The 300 elephant massacre at Hwange National Park, Zimbabwe affects me terribly, can't imagine, can't bear to think how these magnificent, family-bonded animals must have suffered pain and fear, seeing their loved ones die around them. Then I cannot fathom how anyone could be so ruthless, and I get mad as hell.
This is just an example of our bad side though. Our nimble species engages in much cruelty and killing, whenever, wherever.
Being bad is genes. Long time habit too. Also, every generation there seems to be that minority that behaves exceptionally ruthless, making the world a bad hellish place.
Question to all of'ya, reader, Ufoseeker. What would be your recipe for making things better. How to make the world a better place, be it for elephants in Zimbabwe, for women in Afghanistan, gays in Russia, for dogs in Korea, for meat cattle/horses everywhere. I would protect Russians in East Ukraine if it did any good. What do we need to change about ourselves and our societies whatever to improve?
orangekea
Dead elephants at Hwange National Park, Zimbabwe. Photo AP / The Telegraph.